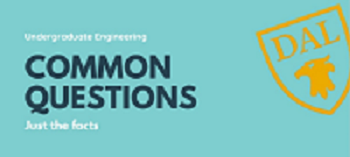 Academic Advice (Upper Division)
Office: C314
Tel: (902) 494 6129;
Email: eceugrad@dal.ca
Meeting: Wednesday afternoon 1-3pm

Academic Calendar
Academic Support
Health & Wellness
Academic advisors at Dalhousie strive to enable students to make a successful transition to university, to take responsibility for learning, how to set academic, career and personal goals as well as to develop strategies for achieving them.
Specifically, academic advisors at Dalhousie help students:

assess and clarify their interests, academic abilities and life goals;
develop suitable educational plans consistent with their goals;
select appropriate courses and complementary educational experiences;
interpret institutional rules and requirements;
develop decision-making skills;
resolve academic problems, conflicts and concerns;
evaluate their progress towards their goals;
by referring them as necessary to other resources.
ECE Curriculum
Certificate in Biomedical Eng.
Technical Electives
Humanities Electives
Academic Dismissal Policy (September 2023)

Updated: Academic assessment is done on a term-by-term basis, and students must maintain a Cumulative GPA (CGPA) of at least 2.0 to remain in Good Standing.
For Upper Division (Years 3, 4, & 5) assessment occurs after 24 credit hours in the Upper Division. Students are assessed for academic standing at the end of every term thereafter.
Upon assessment, students with a CGPA below 2.0 are on academic probation; a CGPA below 1.7 will trigger an academic dismissal; a term GPA below 2.0 while on academic probation will trigger an academic dismissal; failing any course twice will trigger an academic dismissal. Note that grade replacement applies only to your GPA (a failing grade remains on your record.)
For all Engineering students the term of a first dismissal is 8 months.
This break from academic work is intended for you to reflect on what elements contributed to your poor academic performance and it gives you the opportunity to upgrade your academic skills or to overcome the academic barriers. You should apply for re-admission after 8 months and you should include a letter of poor performance identifying academic weaknesses and what you have done to overcome those weaknesses (Math skills, study skills, language skills, programming skills etc).